Get ready for hunting season with DSG's warmest and most versatile women's hunting suit
DSG Outerwear, the leading manufacturer of the most technical, high-performance, and full-featured hunting apparel for women, is proud to announce the latest release to its line of all-weather hunting apparel. Her always-popular Kylie, Kylie's new 4.0 3-in-1 Hunting Jacket and Seat Bibs. The most versatile in its class, the new jackets and bibs will help hunters prepare for anything, from hunting in cooler to cooler weather to casual wear around camp. DSG Outerwear is curre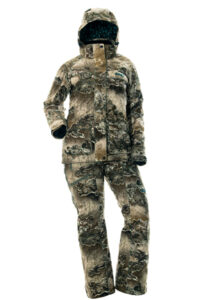 ntly taking pre-orders for a five-color set that includes three popular Realtree® camo models and sizes small to large.
The new Kylie 4.0 3-in-1 jacket is DSG's most adaptable cold-weather garment, allowing hunters to add or subtract layers based on temperature needs.
The Kylie can be worn in three different ways. For maximum warmth on the coldest days, hunters can line the included removable fleece lining underneath the outer shell. For slightly warmer days, wearers can wear the outer shell or just the fleece inside as a stylish casual piece.
The Kylie 4.0's waterproof and windproof, brushed and quiet outer shell is made of 100 grams of thin layer insulation to provide mild warmth when worn alone or additional insulation when combined with the fur lining. accompanying sheep. The fabric is treated with DWR to help with water drainage and appears to be 100% fully bonded to keep you dry in inclement weather, as is often the case on end-of-season safaris. The jacket also has an adjustable and removable hood; Lycra® inner wrist guard with thumb hole; Plus, large hand warmers with concealed push-button flaps and side pockets. Large zipper in the front center combines with hidden fasteners to securely close the jacket and avoid further cold temperatures.
To seamlessly transform the two-piece Kylie 4.0 into an incredibly functional warm coat, simply zip the inner fleece lining to the outer shell and secure it in place with the built-in latches. When you come back from the hunt, this fleece bra in itself is a cute and functional casual with a large zip in the front center and zippered hand warmers.
Paired perfectly with the Kylie 4.0 3-in-1 Jacket as its must-have counterpart, the Kylie 4.0 Drop Seat Bib, waterproof and windproof, brushed and quiet. Like jackets, versatility is paramount in these pants with a built-in drop-down seat feature for quick access when nature calls. Plus, the bib easily transforms into pants with a quick zip and top release. Made of thin material, 120g insulation with DWR treatment and fully taped seams, this bib/pants will keep you warm and dry while you go hunting. Kylie 4.0 bibs/pants also incorporate an adjustable internal buckle seam to adjust to three different lengths (from 28.5″ to 32.5″) as well as adjustable waist and suspenders. Adjust to fit measurements. Large hand warmers and zipped thigh pockets provide extra storage space for small gear.
The Kylie 4.0 3-in-1 set comes in five colors: Realtree Edge®, Realtree Excape™, Realtree Max-5®, Blaze Pink or Blaze Orange. The inner fleece lining is colored to match the outer shell, with a camo cover accompanied by a black lining. Jackets and bibs come in a variety of sizes from XX-Small to 5XL.
About DSG Outerwear
The DSG outerwear was designed in 2010 by Wendy Gavinski after years of personal frustration with the limited selection of women's outerwear for an active outdoor lifestyle. The goal – to create a line of clothing and equipment that meets the need for a functional and feminine fit, including plus sizes. The company produces a wide range of clothing for hunting, fishing, ice fishing, and skiing. DSG Outerwear uses the highest quality materials and components crafted by designers and manufacturing experts with over 40 years of experience producing quality outerwear. The company makes everything from highly functional layered pieces to insulated jackets, bibs, pants, shoes and accessories perfect for any type of outdoor