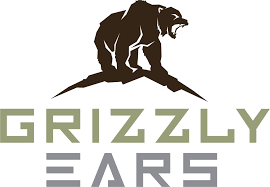 As a seasoned marksman, I've always believed that every shot counts.
When it comes to shooting protection, the right gear can make all the difference in your comfort, protection and, yes, your accuracy. That's why I was intrigued when I stumbled upon Grizzly Ears Predator Pro Shooting Protection Earbuds. Designed with the needs of serious shooters in mind, these earbuds offer a unique blend of comfort, functionality, and tactical precision. In this review, I'll dive into the key features and share my personal experience with this exceptional product.
Design and Fit:
Right off the bat, the sleek and compact design of the Grizzly Ears Predator Pro earbuds caught my attention. The matte black finish exudes a sense of professionalism, while the discreet profile ensures a low-profile appearance when in use. The earbuds fit snugly in the ears, providing a secure and comfortable fit, even during intense shooting sessions. With different sizes of ear tips included in the package, finding the perfect fit for your ears is a breeze.
Protection is What Really Matters
Noise Reduction and Sound Clarity:
When it comes to shooting protection, effective noise reduction is crucial. The Grizzly Ears Predator Pro earbuds excel in this department, boasting an impressive noise reduction rating (NRR) of 26 decibels. This level of protection ensures that harmful noise from firearms is significantly reduced, safeguarding your hearing without compromising situational awareness.
What sets the Predator Pro earbuds apart is their ability to suppress loud impulse sounds while maintaining excellent sound clarity. The advanced technology embedded in these earbuds detects and instantly attenuates sudden loud noises, such as gunshots, ensuring that your ears are protected without sacrificing the ability to hear essential ambient sounds. This feature is particularly important for tactical shooting situations, where split-second decisions can be a matter of life and death.
Bluetooth Connectivity and Controls:
Grizzly Ears knows that shooters demand versatility, which is why they integrated Bluetooth connectivity into the Predator Pro earbuds. Pairing the earbuds with your smartphone or other Bluetooth-enabled devices is effortless, allowing you to stream music, take calls, or even follow audio instructions while keeping your hearing protected. The wireless freedom provided by Bluetooth connectivity adds an extra layer of convenience and ensures that you stay connected even in high-pressure shooting scenarios. While the earbuds can be used for daily audio, such as listening to various audio and video programs, I found that they tend to vary in their connectivity depending on where my phone was placed with the occasional loss of audio. While a small inconvenience when using the earbuds, I recommend them for range/hunting use rather than a daily wear product.
The onboard controls are thoughtfully designed, with easily accessible buttons located on the earbuds themselves. Adjusting the volume, switching tracks, or answering calls can be done with minimal effort, allowing you to focus on your shooting without distractions. The intuitive control placement enhances the overall user experience and showcases Grizzly Ears' attention to detail.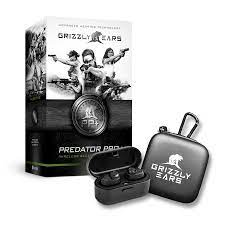 Battery Life and Charging:
In the world of electronic shooting protection, battery life is a crucial factor. The Grizzly Ears Predator Pro earbuds rise to the occasion with an impressive battery life of up to 10 hours on a single charge. This extended runtime ensures that the earbuds can keep up with even the longest shooting sessions without interruption.
Charging the earbuds is a breeze, thanks to the included USB charging cable. The compact charging case doubles as a portable power bank, providing additional charges on the go. Whether you're at the range or on a hunting expedition, the Predator Pro earbuds are designed to keep up with your shooting adventures.
Durability and Build Quality:
Grizzly Ears takes durability seriously, and the Predator Pro earbuds reflect that commitment. The earbuds are built to withstand rugged conditions, featuring a robust construction that can handle the demands of shooting ranges and outdoor environments. The IPX4 water resistance rating ensures that the earbuds can withstand sweat, light rain, and other moisture-related challenges.
The earbuds come with a durable carrying case that not only protects them when not in use but also serves as a convenient storage solution. The compact and sturdy case easily fits in your pocket or range bag, keeping your earbuds safe and secure when not in use.
Overall Impression


For shooters who demand the balance of protection, performance, and convenience, Grizzly Ears Predator Pro Shooting Protection Earbuds are a game-changer. With their sleek design, impressive noise reduction capabilities, and advanced features such as Bluetooth connectivity, these earbuds offer an unrivaled shooting experience.
The Grizzly Ears Predator Pro earbuds provide tactical precision and reliable hearing protection in a compact and user-friendly package. Elevate your shooting game with the confidence that comes from protecting your hearing without compromising on comfort or functionality. Trust Grizzly Ears to unleash your tactical prowess and take your shooting skills to new heights.