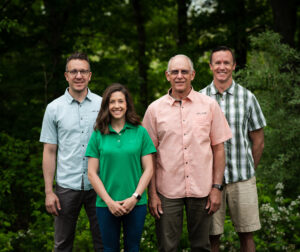 NEW HAVEN, Mo. – From humble beginnings in a one-car garage, the vision to bring quality gear to outdoor enthusiasts at an affordable price has led to one of the most successful outdoor manufacturing companies in the U.S. and this year, ALPS (Active Lifestyle Products & Services) celebrates its continued success as the company marks its 30th anniversary.
"Enjoying the outdoors is a blessing in so many ways," said ALPS owner and founder Dennis Brune. "Whether we are camping by a beautiful lakeside with our family, taking a path less traveled deep in the backcountry, or even tag-teaming spring gobblers with a good friend, outdoor adventures edify the soul and instill memories that last forever. For our family and our employees, the outdoor lifestyle and our loyal customers have blessed us greatly."
1993
Dennis and wife LaRayne began ALPS in their small garage with the mission to create performance-driven outdoor gear at a reasonable price. What started as a line of fanny packs eventually grew to include tents, packs, camping furniture, sleep systems, and more.
2007
With the camping segment firmly established, ALPS expanded to include the ALPS OutdoorZ brand of gear. Taking lessons learned from the camping side, the company focused on designing and producing technical packs and support essentials for the hunting community. Along the way, ALPS OutdoorZ leveraged its success to help support conservation and habitat preservation initiatives with leading organizations in the outdoor sports segment.
2009
Not long after setting up ALPS OutdoorZ, the company entered a licensing partnership with Browning to produce camping gear under the Browning Camping brand — gear built to align with Browning's "The Best There Is" philosophy. This was followed by hunting products including blinds, stools, and accessories produced under the Browning Hunting Blinds brand.
2012
As the country was finally pulling out of the Great Recession, ALPS introduced another brand called Cedar Ridge. The idea of Cedar Ridge was to provide "starter set" camping gear and accessories for the family-friendly budget. This coincided with a strong push by ALPS to get more young people involved in outdoor recreation.
2023
Today, ALPS and its family of brands continue to expand through innovation, new product development, and refinement. The latest effort incorporates the company's new R3 initiative. With the mission to Reduce • Reuse • Recycle, the R3 program represents an increased push to use more recycled content in materials and packaging and further mitigate environmental impact.
"As we recognize our thirtieth year of business," Brune continued, "we also celebrate our customers who have brought us here. And in some small way, we live vicariously through them. When we pack a tent or ship a backpack, we often think, 'Where is this going? What adventures will it see? Who is the person who will sleep in this bag? Will there be a young, first-time hunter sitting in this blind when they take their first deer?' From the product designer who first puts pen to paper to our warehouse crew who sends the boxes out the door — it may sound trite or cliché, but it is true — we feel a personal connection to our consumers through each and every product we manufacture."
For more information on ALPS and the company's family of brands, visit ALPSBrands.com.
About ALPS Brands:
Beginning in 1993 with the establishment of ALPS Mountaineering, ALPS Brands is a continuously growing and expanding group of companies dedicated to developing and manufacturing high quality, performance-driven outdoor products. Currently making up the ALPS Brands family of companies are ALPS Mountaineering, ALPS OutdoorZ, Cedar Ridge, Browning Camping and Hunting Blinds. ALPS OutdoorZ—the hunting gear moniker for ALPS Brands—made its mark several years ago by offering packs purposefully designed for remote wilderness hunting. Today, ALPS OutdoorZ products cover everything from day and expedition packs to waterfowl blinds and turkey hunting vests, as well as furniture, gun cases and sleeping bags.  ALPS OutdoorZ items are sold and distributed in the best camping, backpacking and outdoor dealers throughout the entire US and Canada. For more information, please visit www. alpsoutdoorz.com.
Media Contact:
Taylor Woodruff