The Seek Outside Courthouse tent is a remarkable shelter designed to withstand the rigors of the outdoors while providing ample space and comfort for its occupants. With its durable construction, ease of setup, and versatile design, this tent is a top choice for adventurers seeking reliable protection in various environments. With the resurgence of "hot tent" camping and all of the new options in the marketplace, the Courthouse Tent stands above most others in the areas of ease of use, portability and durability despite its light weight.
Setting up the Courthouse tent is a breeze, thanks to its intuitive design and thoughtful features. The tent comes with lightweight aluminum poles that are color-coded for easy identification, making assembly a straightforward process. It typically takes two people around 15 to 20 minutes to fully set up the tent, including staking it down securely. The tent's instructions are clear and concise, ensuring that even those with minimal camping experience can quickly and efficiently pitch the shelter.
One of the standout features of the Courthouse tent is its spaciousness. With a floor area of 96 square feet and a peak height of 72 inches, this tent offers ample headroom and room for gear storage. The interior space comfortably accommodates up to four people, making it an excellent choice for group camping trips or family outings. Additionally, the tent features two large doors and vestibules on each side, providing convenient access and extra storage space for equipment.
Durability is a key factor in any outdoor shelter, and the Seek Outside Courthouse tent excels in this regard. The tent is constructed from robust materials, including a durable polyester ripstop fabric with a polyurethane coating, which provides excellent water resistance and UV protection. The tent's lack of a floor helps ensuring longevity and resistance to wear and tear. No hot ember burns from the stove, and it's easy to use a poly tarp for versatility. Reinforced stress points further enhance the tent's overall strength, making it capable of withstanding challenging weather conditions.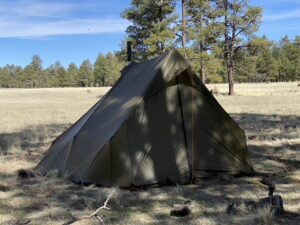 In terms of versatility, the Courthouse tent is a true all-rounder. Its design incorporates a modular setup, allowing users to customize the tent according to their needs. The tent can be set up with a lightweight mesh inner tent for enhanced bug protection during warmer seasons or without the inner tent for a more spacious and breathable shelter during milder weather. This adaptability makes the Courthouse tent suitable for a wide range of environments, from hot summer trips to colder, snow-covered landscapes.
One of the notable advantages of the Courthouse tent is its compatibility with a wood-burning stove. Seek Outside offers a range of compatible stove options, specifically designed to work seamlessly with their tents. The tent features a stove jack, a designated opening with a fireproof material, which allows you to safely install and use a stove inside the tent. This feature is a game-changer for cold-weather camping or expeditions in areas where a reliable heat source is essential. The stove provides warmth, allows for cooking, and creates a cozy atmosphere within the tent, even in freezing temperatures. The ability to use a wood-burning stove makes the Courthouse tent an excellent choice for winter camping, hunting trips, or any adventure where staying warm and comfortable is crucial.
Moreover, the Courthouse tent is designed to comfortably sleep three people using cots. While the tent's floor area of 96 square feet is spacious enough to accommodate three individuals, using cots further enhances sleeping arrangements and overall comfort. Seek Outside offers a range of lightweight and packable cot options that fit perfectly within the tent's ample interior space. The addition of cots provides elevated sleeping surfaces, ensuring a more restful night's sleep. The Courthouse tent's design, combined with the use of cots, creates separate and defined sleeping areas, allowing each occupant to have their own space and privacy while sharing the tent.
With the inclusion of a wood-burning stove and cots, the Seek Outside Courthouse tent becomes an incredibly versatile and comfortable shelter for outdoor enthusiasts. It transforms into a cozy and warm retreat during cold weather, allowing you to enjoy the outdoors even in harsh conditions. The stove provides heating and cooking capabilities, while the cots offer elevated and comfortable sleeping arrangements for up to three individuals.
It's important to note that when using a wood-burning stove inside a tent, safety precautions must be followed. Seek Outside provides detailed instructions and safety guidelines on how to properly set up and use a stove within their tents. Adequate ventilation, fire safety measures, and appropriate stove maintenance are essential to ensure a safe and enjoyable camping experience.
As for pricing, the Seek Outside Courthouse tent falls into the higher end of the market due to its exceptional quality and features. The tent is available for purchase at a retail price of around $1400.00- certainly at the higher end of the price spectrum for tents, but well worth the value when you consider it's light weight (13 lbs. all-in. Try THAT with a canvas wall tent!). While it may represent a significant investment for some, the tent's durability and versatility justify the price, making it a worthwhile long-term investment for serious outdoor enthusiasts.
Versatility
The Seek Outside Courthouse tent is ideal for a variety of uses, including backpacking, car camping, hunting, and backcountry expeditions. Its lightweight design, combined with the spacious interior, makes it suitable for extended trips where comfort and durability are paramount. Whether you're venturing into remote wilderness areas or setting up base camp for an extended stay, this tent will serve as a reliable shelter that withstands the elements and provides a comfortable living space.
To purchase the Seek Outside Courthouse tent, you can visit the official Seek Outside website (www.seekoutside.com) or check with authorized retailers and outdoor gear stores. The Seek Outside brand has a solid reputation in the outdoor industry, known for its high-quality products and excellent customer service. Ordering directly from the manufacturer ensures authenticity and access to any warranties or after-sales support that may be available.
The Seek Outside Courthouse tent is a standout option for outdoor enthusiasts seeking a durable, spacious, and versatile shelter. Its ease of setup, durability, and modular design make it an excellent choice for a range of activities and weather conditions. While the price may be higher compared to some alternatives, the investment is well worth it for those who prioritize quality, reliability, and long-lasting performance. With the Seek Outside Courthouse tent, you can embark on your outdoor adventures with confidence, knowing that you have a dependable shelter to rely on.
Camping Gear Rating (5 = EXCELLENT)
Ease of use:   3
Durability:     4
Price:              4
Value:             5
Comfort:        4